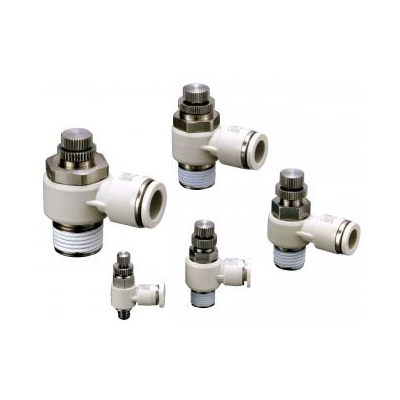 SC3P - SPEED CONTROL
กรุณาติดต่อ 0816174365
[Stainless steel used]
Speed control valve that uses corrosion-resistant stainless steel.
Stainless steel equivalent to SUS303 (Cr20% and Mo2%) used.
Ideal for use in atmospheres susceptible to copper ions as copper alloy is not used.
[Standard ozone-resistant materials]
Ozone-proof materials for degradation prevention are used as a standard for the check packing.
[Environment-friendly products]
All substances which adversely affect the global environment have been eliminated from the materials.
RoHS Directive compliant products.
Model No.
Product name
Port size (R)
Compatible tube O.D.
Remarks
SC3P-M5
Speed controller Stainless steel corrosion-resistant type
M5
Φ4, Φ6
SC3P-6
Speed controller Stainless steel corrosion-resistant type
1/8
Φ4, Φ6, Φ8
SC3P-8
Speed controller Stainless steel corrosion-resistant type
1/4
Φ6, Φ8, Φ10
SC3P-10
Speed controller Stainless steel corrosion-resistant type
3/8
Φ6, Φ8, Φ10,Φ12
SC3P-15
Speed controller Stainless steel corrosion-resistant type
1/2
Φ8, Φ10, Φ12