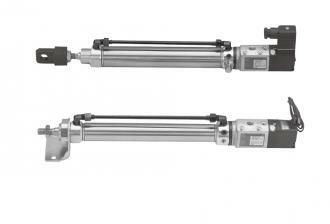 CKV2 - AIR CYLINDER
กรุณาติดต่อ 081-6174365
[Common exhaust]
Common exhaust keeps the ambient environment clean.
[Work and operation centralized on the top surface]
Piping, wiring, speed adjustment and operation are all accessible on the top surface.
Installation, operation and maintenance are easy.
[Easy speed adjustment]
Speed adjustment is easy with the speed adjustment needle.
Mechanism for locking after adjusting included.
[High corrosion resistance and long service life]
Stainless steel tube used.
Highly corrosion resistant and long-lasting.
[Easy actuation change]
Rotating the adapter, it is possible to change the actuation of push and pull when energized.