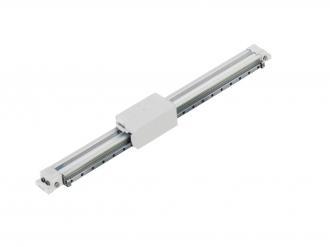 SRG3 - AIR CYLINDER
กรุณาติดต่อ 081-6174365
[Compact and high-precision]
The compact guided rodless cylinder has an SRL3 Series body with a high precision 1-axis guide installed on the side.
[Low-profile design is possible]
The original flat rodless cylinder structure has a table in a very low position and thus enables you to design a thin system.
The stroke length is common between this cylinder and SRL3 Series. Therefore they are dimensionally interchangeable.
[Common port]
A common port (one-side piping) or standard port (both sides piping) can be selected according to the installation location.
Downsizing of equipment realized.